About OWB
Overview
Based in Birmingham UK, but working on an international stage, OWB is a marketing agency with a wealth of knowledge and know-how when it comes to creating campaigns that work for a wide range of clients. We take getting results seriously, but seriously enjoy what we do and think creatively about how to add value and get the best results for your business and your budget.
It takes a great agency to add value to your business. And OWB has some seriously good trophies in the cabinet:
We're one of the top 100 agencies in the RAR – Recommended Agency Register. This is independent recognition of our skills and services in design and digital.
We're proud to be an official Investor in People and an accredited ISO 9001 business. It's all about quality here.

Values
We are extremely passionate about our clients, our people and what we do

We have expertise but we are also keen to try, test and develop our learning with you on your journey

We are honest, upfront and intensely driven to achieve real results for our clients

We are committed to excellence across design, digital, advertising, direct marketing and research
Timeline
2001

OWB founded by Directors Richard Oakley, Shari Bryan and Andy Wilkinson.

2002

OWB moves into new premises at Faraday Wharf, Birmingham.

2007

MBO to re-structure to present format.
OWB achieves ISO9001 Accreditation and Investor in People standard.

2009

OWB joins international marketing network.

2010

Andy named in Insider '42 under 42'.
OWB achieves ICO Accreditation.

2011

Due to expansion OWB moves into larger, new premises
at The Bond, Birmingham.

2012

OWB wins Insider 'International Agency of the Year'.
OWB wins Birmingham Post 'Marketing Agency of the Year'.

2013

OWB named in RAR Top 100 Design Agencies.

2014

Andy Highly Commended at IoD Awards.
Awarded Google Partner Status.

2015

Digital Entrepreneur Awards
Shortlisted Finalist

2015

Birmingham Post Awards Winner
Creative, Comhttp://www.owb.uk.com/wp-admin/post.php?post=6&action=edit#munications and Digital Agency of the Year

2016

National Business Awards
SME of the Year Finalist

2016

Financial Services Forum
Marketing Effectiveness Awards Highly Commended

2017

Andy Wilkinson MD shortlisted for the IoD Director of the Year Awards 2017 - UK Finals in the SME Company award category

2017

Andy Wilkinson Wins Director of the Year, IoD West Midlands, SME category
OWB Finalist Birmingham Post Business Awards
Awards
We strive to create the most dynamic, effective work for our clients, achieving results that far exceed our clients expectations. Whilst there is no greater accolade than amazing feedback from a delighted client…it's also nice to win an award or two…
International
At OWB we are proud of our Birmingham heritage and the businesses we work with and support locally. But our reach goes far beyond the Midlands, and beyond the UK too. Recently our work with our International partners has reaped awards in the form of Insider International Marketing category Winner for our work in Europe specifically with our partner Eluere in France and Trio Group in Germany, Hong Kong and the Windward Isles, helping our clients to make important International contacts and deliver marketing strategies in new markets.
Our international network gives us unparalleled reach for research and brand knowledge, unique partnering to boost your international marketing programmes and the scope of huge global facilities that can innovatively add an exciting new dimension to your campaign.
To open global opportunities for your business speak to Andy, drop in for a coffee and let's see how we can help you.
Community
As part of the LDC tour in 2010 we were a part of a team that raised a cumulative £185,000 for 9 charities, see www.ldclessordinary.co.uk
We support and sponsor amateur and grass roots rugby through our sponsorship of Walsall RFC.
We support MacIntyre, an amazing charity through support and fundraising for the annual golf day which raised a staggering £26,000 in 2010.
Belfry Sporting Club, supporter of this dinner club which assists in fundraising across the region and is the oldest dinner club of its type in the UK.
In 2014 we supported Walking with the Wounded to help injured troops to get into work with a sponsored walk attended by 800 people on the Langdale Pikes raising some £250,000.
We are thrilled and in awe that we made it onto the 2013 Marussia team. A small selection of images can be enjoyed here.
OWB is proud to support the all-new Gibbon Forest at Twycross Zoo this fabulous new environment launched in 2016.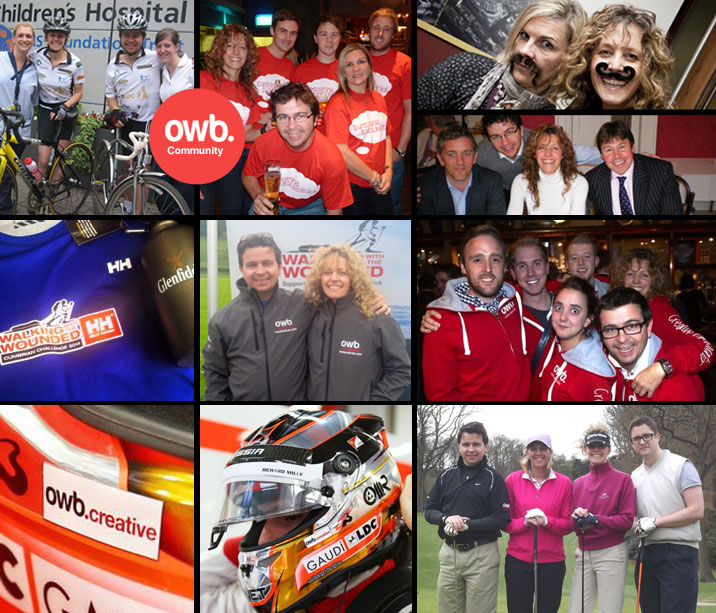 Work Experience
Every year we encourage work experience to let young people find out about life in a fast-paced agency environment.
After carrying out work experience at OWB, the bar was set sky high for any company to follow in the footsteps of providing such fantastic experience. The motivation of the team was definitely due to the passion and creativity of Andy; a Managing Director focussed not only on achievement, but remembering that personality, approachability and enthusiasm propels you even further! Andy is without a shadow of a doubt, one of the best motivators I have worked under, and I treat the experience I gained at OWB invaluable.
India Watson, Marketing & Sales Intern at Warner Bros.