How do you successfully amplify your story through PR? OWB have been doing just that for our client, Auriga Services. When OWB took on the project in late 2018, we very much knew that PR would play a vital part of their integrated comms strategy. Auriga Services has a defined and very specific target audience that reads trade publications such as Utility Week, but they also touch the lives of thousands of people in vulnerable circumstances across the country.
How did we approach this?
The key to successfully amplifying your message is to create a content calendar that ignites conversation and is relevant.  One example that worked well for us with Auriga was tying our content into extreme weather events, such as the Beast from the East and Storm Dennis back in 2018 and early 2020. For Auriga, these weather patterns result in a higher number of referrals due to customers facing higher heating costs and worrying about not being able to afford their bills, as well as being concerned with damage to utilities caused by storms. By tying our content, with statistics, case studies and action points, to these relevant and timely events, we were able to gain national and local news coverage.
Ensure your stories are relevant to your target audience
Particularly when engaging with regional media outlets, it is worth ensuring that your stories are relevant to the target audience, and that any people involved in the stories are from the local area if possible, as this will increase the chances of your content getting picked up. We recently received local coverage for an article detailing how Auriga can assist Shropshire kidney dialysis patients with receiving the right funding in their local area through a key charity partnership.

Journalists are always looking for their next click-grabbing headline, and there are some things you can do to help your comms pieces get picked up. Here are a few to consider:
Independent surveys will give you valuable insight and a great headline
Surveys are a great way to help you shape you a story, giving you the statistics to justify your opinions and add credibility to your sales proposition. During the COVID-19 outbreak, we created a sentiment survey for Auriga, asking the nation how they felt about their finances and the ongoing impact the pandemic was having on them. This strategy proved to be successful, with the story being picked up by BBC West Midlands. The results from the research were then used to host a round table event with industry experts, resulting in coverage in Utility Week.
Use social media to your advantage
Journalists will plan ahead and create a content calendar for the year. Being aware of National Awareness Days, holidays and other cultural, political and social events gives you the opportunity to get your story told from the angle you want, ultimately showcasing your products and services. We would also advocate following journalists on Twitter as they often put out media requests where they are looking for stories.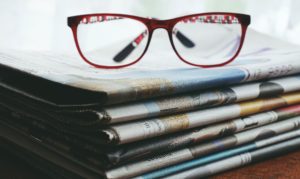 Be pro-active
A great PR strategy means that you have to be flexible and always-on – be proactive where possible and quick to react when needed. When a tariff increase was announced by the Big Six Energy companies, we knew that for Auriga this would mean an increase in referrals, with vulnerable households seeing an increase in their energy bills. As soon as these price hikes were announced, OWB was quick to respond and immediately obtained a response from the CEO of Auriga, discussing the matter and what this meant for Auriga and their target audience.
What else should you consider?
PR is a fantastic strategy to get you in front of your target audience, however it can be difficult to get coverage in a crowded space. As you are creating and telling great stories, it is worth reshaping all of your content for blog content and sharing across your social media channels to ensure maximum engagement and to get as much use out of your content as possible.
Lastly, be proud of the coverage you receive. If your story is being picked up, make sure to shout about it both internally and externally!
If you are looking for a PR strategy that will work for you, get in touch with Andy today.