After 12 years of being Digbeth residents, we are delighted to announce that OWB is on the move, and our amazing new home is in the neighbourhood of Birmingham's prestigious and vibrant Jewellery Quarter, Grosvenor House St Paul's Square. It's an exciting new adventure and a fresh start for OWB at our new home sweet home – and we are thrilled to be in our shiny new headquarters! So much hard work has gone on over the past few months to make this move happen, and we are excited to share it all with you!
Although there were a few challenges with the move due to restrictions, we were undefeated in taking on the tremendous mission of making the BIG MOVE in just a few short months – albeit with a fair few blood, sweat and tears style moments – but we did it! Bidding a fond farewell to Digbeth (our home for the last 12 years), which we will treasure.
If you scroll down you can enjoy amusing snaps of a few of our team members, as always there were some giggles, but moving 10 years of life at Digbeth and 20 years of business history is by no means a simple task (a great deal of clothing has been distributed at the offices oddly enough over the years – we are still debating on who owns the mysterious greenish Barbour jacket and the random sock?!).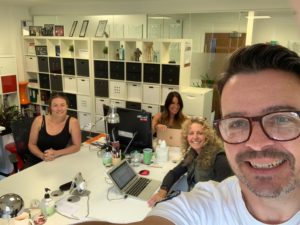 THE NEW WAY OF WORKING AT OWB
We are embracing the world of virtual offices, which enables us to work within flexible and modern co-working space, more importantly it is amazing to have all the team safely back together. It is still great to have that creative strong hub together again and see each other's lovely faces in person instead of being confined to virtual interaction!Despite COVID-19 OWB have been moving forward, having on-boarded fresh new clients and a new style of working, a new move felt very fitting in many ways!
ST PAUL'S SQUARE – NEW HORIZONS NEW HOME
Another bonus of our new home is that we are able to enjoy the luxury of being situated in the heart of Birmingham's iconic and vibrant Jewellery Quarter district and all four-sides of the Square surrounded by trendy bars, cafes and restaurants literally on our doorstep, which we will certainly be exploiting eventually with fellow colleagues and clients (cue calls and emails from clients demanding a catch up!).
"We are beyond excited about the new move enabling us to grow further as we have adjusted to many changes. We look forward to welcoming clients in face to face meetings once restrictions are eased, this vibrant square is perfect for welcoming clients and nipping off for a coffee or lunch, overlooking the picturesque and vibrant St Paul's church. What more could you ask for?"– Andy Wilkinson, Managing Director, OWB.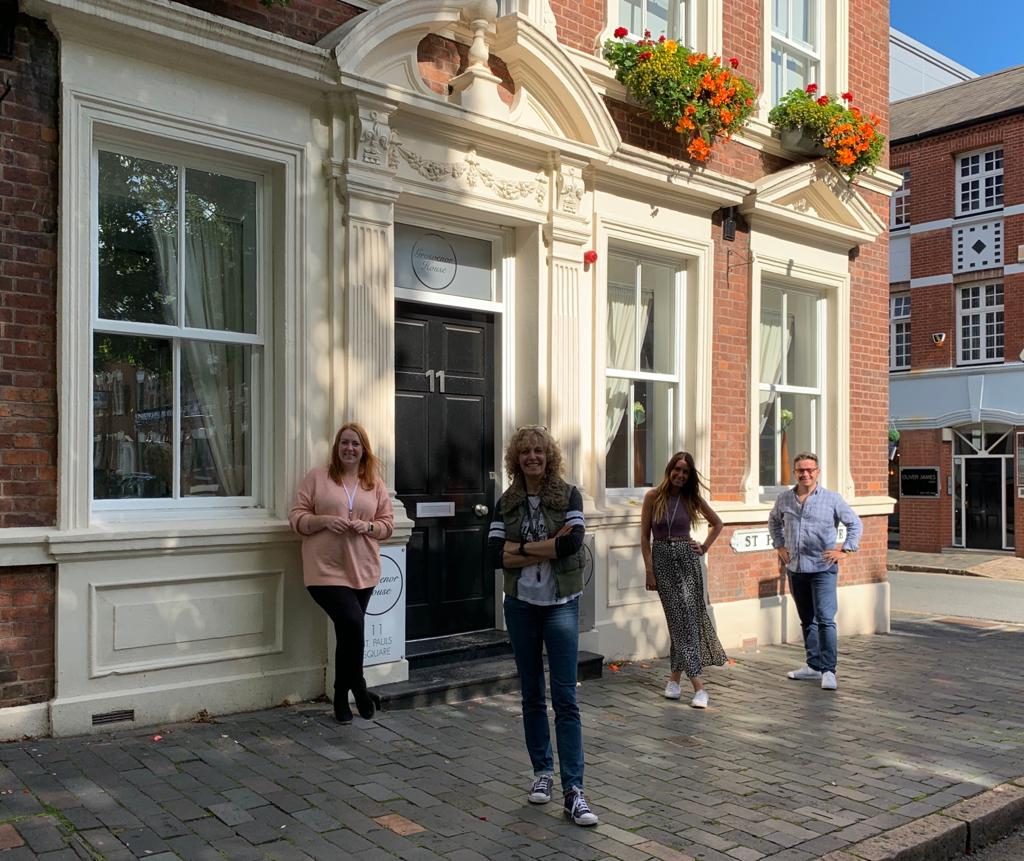 FANCY A LITTLE TOUR OF OUR NEW HOME?
OWB's luxury new headquarters, Grosvenor House is a classic renovated Georgian building (we are giving you the proper Tourist Guide treatment here!), the perfect fit for us as it offers virtual office solutions and hot-desking space (oo fancy, this is perfect for our new virtual adaption), along with swanky meeting room facilities, and here it is!  Let's show you around our trendy new offices…check them out! https://grosvenorstpauls.com
And, guess what it even boasts its own bar – The Snug, which we expect the OWB team to fully exploit! Bar 11, as its formally called, is a superb chill out spot, its own kitchen, 49-inch flat screen TV, full stocked fridge and bar AND A DARTS BOARD, for those traditional darts at three with tea games, in keeping up with the OWB tradition.
It's a fresh start and new adventure for OWB – we can't blummin' wait!
We will leave you with a few snaps from the big move…