Your business has emerged from lockdown. You're keen to get going and get your business moving again. You know what you need, a professional corporate film, an advert, or a series of short product films for your website or social media, but with some restrictions still in place, how do you go about doing it? Where do you go and how do you keep safe in the process?
Well that's exactly what we've been working on – and we have all the answers.
What is COVID safe filming?
Here at OWB we take the health and safety of our clients, cast and crew very seriously. Even more so in our current climate of course, but we also don't want to compromise on quality or the final creative output.
You might want to take your filming off-site, or perhaps you need to recreate a specific scene, so we've been working hard to put processes in place to ensure we can work with you wherever you need to film, whilst still adhering to all government guidelines.
Get in touch to book your next project
How do we do it?
Location filming
Either out on location or at your offices, we've implemented new risk assessments for ensuring everyone adheres to social distancing and remains safe.
From single technicians with PPE to set up cameras with zoom lenses, to balance distancing and shot requirements and studio grade shotgun mics utilised to avoid physical radio mics, we have it all to keep you safe.
Studio filming
We have a large open plan studio, so plenty of room to socially distance actors and technicians and a control room with a large screen and professional audio to direct from all provided with cleaning and hand sanitisation of course. The studio can be staged to almost any scene you desire, and if we can't build it, we can probably fake it with any green screen or CGI you can imagine.
Our large green screen studio and selection of cameras with zoom lenses means not only can people be super creative in front of the camera but also our technicians keep a minimum of 4m distance from the talent.
Our studio lighting is pre-lit, and our remote-controlled cameras mean our technicians can spend as little time as possible in the studio. Again, studio quality shotgun mics are set up to remove the need for radio mics, therefore no physical contact with the crew. And if makeup is required, we can supply a makeup artist, wearing PPE, utilising single use applications.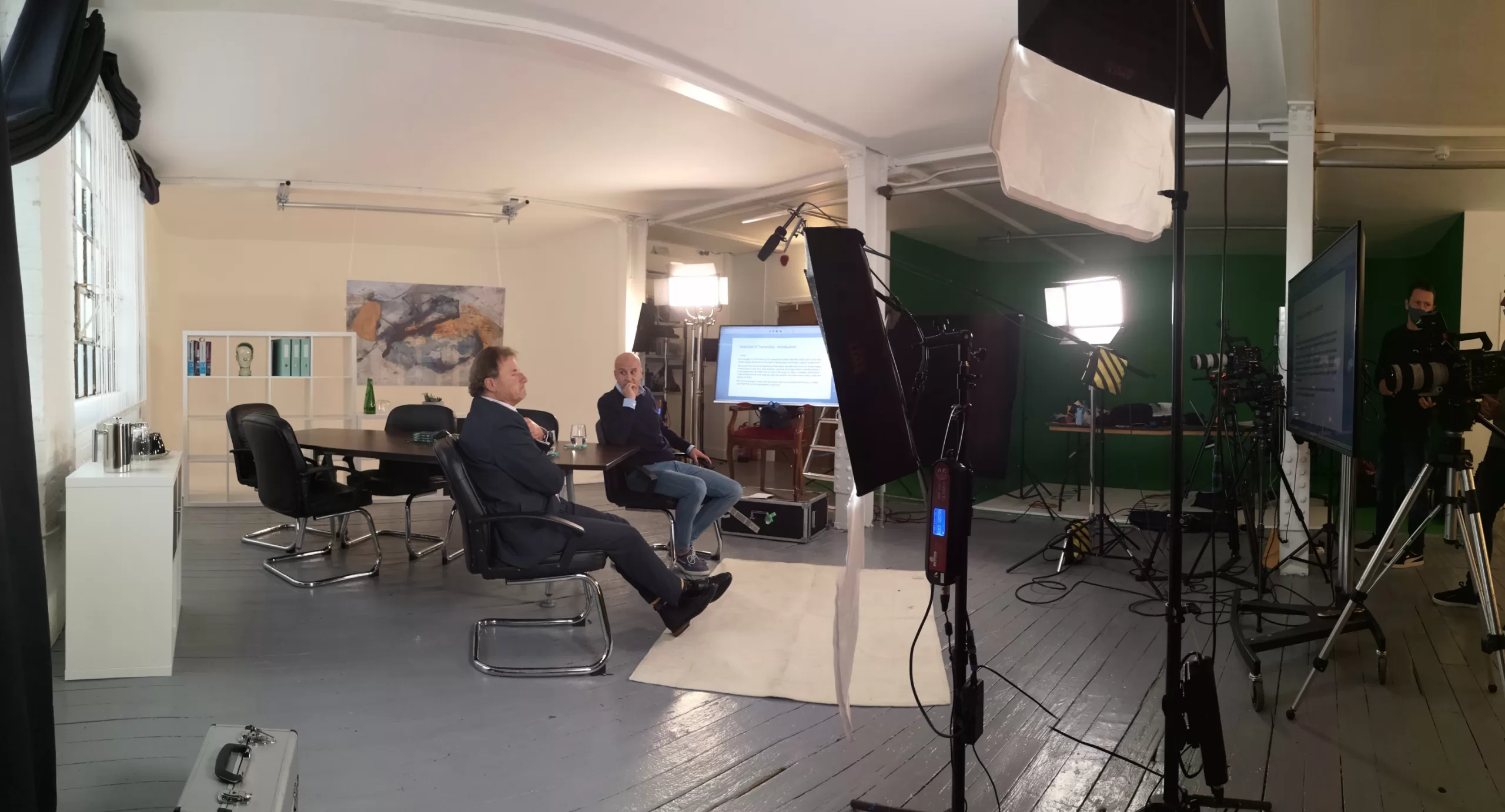 Audio recording
Need an audio track recording? Our sound rooms are in full operation, we have isolated audio booths with direct sight to the audio engineer. Voice over artists simply enter the booth which is a short distance from the front door. Once inside they have headphones to talk directly to the engineer and any clients or directors over phone, Skype or Zoom.
Video can work so hard in a marketing strategy and is incredibly flexible across all channels, so if a video is on your to-do list, rest assured we can make it happen both creatively and safely to hit the mark for your marketing needs.
Get in touch to book your next project