Cake Study is back! Every month we unpick the ingredients from a range of successful integrated client campaigns and deliver their tasty details! Highlighting some of our EPIC clients and talking to them about the dynamics of specific campaigns that we have worked on with them, getting the lowdown on why the campaign was successful? What happened and how did we make the campaign work and bring that brand to life?
This time round we are talking about the hugely successful LDC Top 50 Most Ambitious Business Leaders, which is an annual campaign that LDC runs along with the Times newspaper – a hunt across the UK, to search for the most ambitious business leaders out there! We catch up with Sophie Reed, Marketing Manager at LDC and special guest/ star baker son Max who talk around the mechanisms of this national integrated campaign. What are its ingredients to success?
Top 50 Most Ambitious Business Leader Campaign…and Football Fairy cupcakes.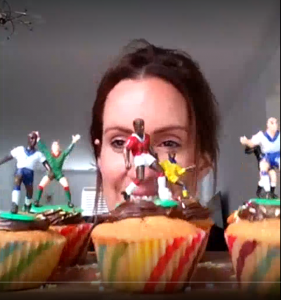 OWB have worked with LDC for many years and have a long-standing relationship with the brand. Their Top 50 Most Ambitious Business Leaders annual campaign continues to be a huge campaign, despite challenges over the last few years the campaign has still maintained momentum and continued to be a massive success.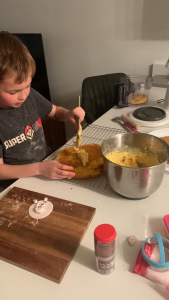 Sophie explains more, "The campaign is essentially a hunt across the UK, where we search for the most ambitious business leaders out there running super interesting businesses and are doing incredible things in their industry, disrupting things, innovating, exporting and essentially it is a campaign that searches for these wonderful leaders! We showcase their stories across social media, where everyone goes mad for it and then we invite all the leaders to a celebration event in October – we really celebrate ambition! In the meantime, we have a panel of amazing judges that will actually look through the whole top 50 and come up with some individual winners – we have seen extraordinary stories!" – Sophie Reed, Marketing Manager, LDC.
So, why did Max and Sophie choose Football themed fairy cakes to represent the fabulous campaign? The cupcakes essentially represent the individual leaders participating in LDC's Top 50 campaign and the football players represent the fact that there are lots of team players within a business and it's a collaborative effort and a special integrated campaign! The cupcakes are sparkly to celebrate ambition and the glitzy, celebration event side of the campaign, "the team side of the campaign is important, because often most of the leaders that we profile, they always will recognise the fact that it isn't about them running their business, it's about the team that work in the company that do a lot of that are just as important as actually the leader… that cupcakes celebrate the individual leaders, but by adding the football playerselement on the top to represent the fact that the teams every business has to have can't just be one person on your business, there's always lots of team players!" – Sophie Reed, Marketing Manager LDC.
Campaign ingredients to success
Despite challenges over the last two year due to covid restrictions the campaign continues to go from strength to strength, with amazing business coming through in 2020 and 2021, as people have continued to celebrate business success and their teams. Businesses have stuck together during challenging times, pivoting their business, starting work on their ESG, with some fantastic stories emerging each year.
Making the mechanics of the campaign work.
Sophie comments – "There's a great end to this campaign where we celebrate the leaders at various events around the country. We changed that in different situations. Under Covid it was done more hybrid, but last year we went back to a celebration out in the regions and this year we've got some good plans for that again!"
 "So there's a real challenge, to try and find these people. That's why you have to use so many different channels, to try and reach these people who are obviously very busy entrepreneurs anyway…We do find LinkedIn the most effective because I think it is that professional network, isn't it? I think that some of the other social channels, Facebook, Instagram, are more on a personal level, and this is a business, this is about their business. So LinkedIn does definitely perform better for us than the other social channels." – Sophie Reed, Marketing Manager LDC.
LISTEN HERE and tune into the podcast in full to hear more thrilling conversation on why this marketing campaign continues to be such a hit! https://open.spotify.com/episode/1Yp94IaEfKfvCOObsO34CT?si=7732a9b6848b43a4