Despite having reached my 40's, I get the impression amongst fellow OWB-ers that when it comes to being 'cool, hip and trendy'; I'm their guy (!).
For any doubters out there, I will happily point you towards a trophy I was awarded on my Year 8 Geography School Field Trip to Switzerland trophy for 'coolest and trendiest dude of the week'.  Note – I have retained that trophy since 1995. I also still have my green Reebok pullover-anorak that I feel was a significant factor in securing the trophy.
Anyway, this week (presumably because I am so cool, hip and trendy) I have been tasked with giving my thoughts on 'Trend Tuesday'; a little insight into what's 'on trend' in the world of design and marketing.
Having spent my early years never far from a crayon, I have always had a passion for illustration. I spent many an hour doodling Disney characters and sketching school mates before packing my knapsack and heading to the bright lights of the city to study Illustration at University.
I am delighted to therefore see a bit of a revival of the use of illustration in design and particularly 'Retro Illustration' with simple line illustration and printing-press-style colour.
Whilst the use of Retro Illustration may not be suitable for all projects – such as an annual report for a multi-national bank – used correctly it can really give a brand personality – ditching stock photography for bespoke, one-off illustrations. The style really lends itself to consumer brands, and particularly food and drink where the illustration can be playful and almost 'intentionally  cringeworthy' when paired with some 'overly-punful' brand names or copy – as perfectly demonstrated by 'You're the Wurst'
I'm inspired…I think it's time for this ageing illustrator to dust off his HB pencils and start creating some aged-illustrations.
Tune in next week for #TrendTuesday with marginally less 'cool, hip and trendy' Shari Bryan.
Ps…do cool, hip and trendy people actually use the term 'cool, hip and trendy'?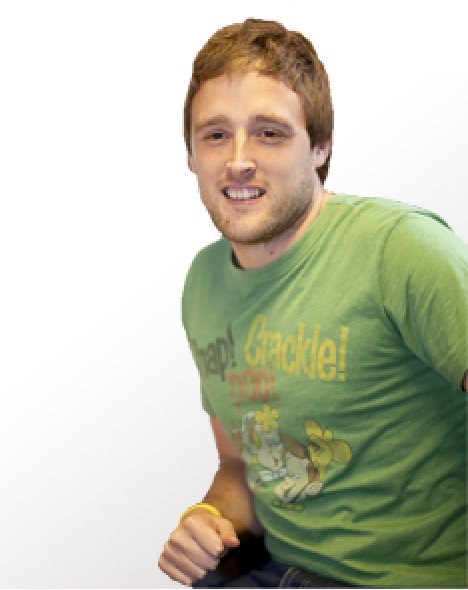 Editor's note: Evidence that Norm has always been the 'cool, hip and trendy' one here at OWB, fittingly in his retro illustration Snap, Crackle and Pop t-shirt – definitely needs a revival that one Norm!