Whilst 2020 was about survival for many businesses, 2021 is about thriving and pivoting in a post pandemic world. Email marketing is seen as one of the most valuable and cost-effective channels to drive sales, brand consideration & to traffic to your website. With lockdown being eased, how can you make the most of your email marketing? And what has changed?
1. Send times remain largely unchanged
Campaign monitor's benchmark report has recently highlighted that there is no clear winner for which day or time is best to send. Brands should continue to monitor open rates and what works best for their audiences.
2. Increase in subscribers
During the pandemic, many businesses saw a 250% increase in subscribers as we couldn't physically go to the shops. However, on-boarding/welcome emails remain the same, with an opportunity to wow your new subscribers with personalised offers but also re-assuring your customers that you take safety seriously overall.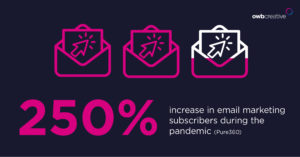 3. 40% reduction in sends
At the start of the pandemic, the UK saw a surge in the number of emails being sent as brands adjusted to life in lockdown. However, as time went on, more businesses were forced to close and furlough staff, meaning that the number of emails being sent dwindled. With a fear of coming across as too 'salesy' and insensitive, or too 'preachy' and doom and gloom, companies decided to play it safe and reduce their communications.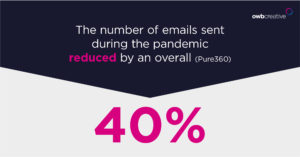 A reduction in activity can be detrimental to your email deliverability, so it advisable not to leave it longer than 2 weeks (as an absolute maximum) between email sends, or mailbox providers may reset your reputation, which takes a long time and lots of very warm, engaged contacts to build.
4. The return of the desktop….
Whilst interactions with email using a mobile device has grown year on year, desktop saw a 28% increase in readership as recipients needed to stay productive whilst working from home. The commute by train (whilst scrolling through your phone) has, for the majority, gone – so it remains vital to check how your customers are opening their emails and ensuring that is optimised for all screens.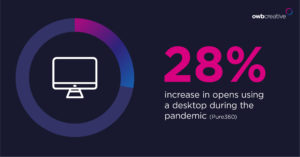 5. More opens, less clicks
Perhaps due to a change in how we consume information, but the pandemic saw an overall increase in open rates of 24%. In contrast, click rates decreased by 10%. Particularly at the beginning of the pandemic, emails tended towards long-read information led pieces, meaning fewer clear CTA and click-through opportunities, which may explain the dip. To combat this, always ensure that you add hyperlinks back to your website with further information.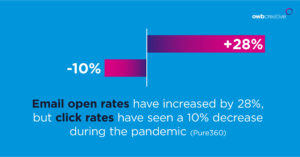 6. Returning customers!
One positive trend from COVID email marketing patterns was the return of the lapsed customer (6%, with more than 40% of these lapsed customers making a repeat purchase). Now is the time to work to re-engage with those previously lapsed customers and provide incentives to bring them back.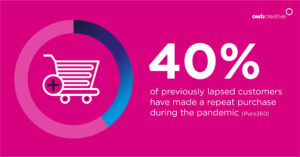 7. Customer experience
The pandemic has changed the way we interact with businesses on many levels, and customers expect to receive excellent customer services from start to finish. This should also be reflected in your email marketing, creating a truly memorable experience. You can do this by:
Being helpful – customers get extremely frustrated if there is an issue and it is hard to get in touch with you – be up front and transparent with how your customers can contact you.Create a customer-centric culture– your customers want to feel involved with your business and believe that you are an ethical company that cares about its customers and the environment.
Personalising your marketing – data is king! A generic, 'catch all' email is no longer enough. To increase your conversions, create separate data lists with targeted campaigns. For example, if you collect dates of birth, send over a personalised birthday offer! Do you ask new subscribers for their interests or why they are subscribing? You can use this data to send them relevant offers and tailored content, making them more likely to click.
With email marketing here to stay – are you making the most of your campaigns? Speak to Andy today for a free email marketing audit!
Sources:
https://www.campaignmonitor.com/resources/guides/covid-19-email-benchmarks/
https://www.pure360.com/how-covid-19-has-impacted-email-marketing-part-1/?submissionGuid=f369b67a-13f2-40dc-86ee-2d48a32b04e7