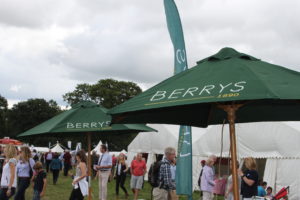 It has been a busy year for our specialist in residential, commercial and rural property client Berrys. After their new website launch and re-brand earlier this year their show season started with the Newport Show in Shropshire.
Account manager Mike Eaton and Head of Digital Christiaan van den Broek visited Berrys stand at the Burwarton Agricultural Show. The show covering all aspects of agricultural life has been a well visited show since 1891 and despite some showers it was well attended.
Mike Eaton, account manager says: ''It is nice to see the Berrys stand, it really stands out and it looks great with the fresh branding.''
Why not visit Berrys at the following shows:
Oswestry Show, Shropshire: Saturday 6th August
Blakesley Show, Northamptonshire: Saturday 6th August
Minsterley Show, Shropshire: Saturday 20th August
Cheshire Ploughing Match at Ashley, Cheshire: Wednesday 28th September
If you need any help with a re-brand and/ or designs get in touch today.