Swoon over these clever and creative love-filled marketing campaigns that attempt to capture our hearts and attention. We're feeling the <3 here at OWB and we are turning to some of our favourite brands for some lessons in love.
Love it or loathe it Valentine's Day is undoubtedly one of the most lucrative times of year as naturally many brands are keen to cash in on the day and get a slice of the action, a key opportunity for them to make a lasting impression and strike a chord with audiences. The cost of love last year resulted in UK consumers spending a whopping £987million on gifts and cards *. There are lucrative opportunities especially for the likes of restaurants, florists, jewellery, card and chocolate companies.
Here we round-up our favourite love-filled campaigns and most striking adverts… as our favourite brands get all gooey on us and attempt to make us feel all special. Here are some memorable campaigns that stuck with us and managed to nail their romantic advertising:

 Bodyshop:
Many brands get experimental to wish their customers Happy Valentine's day and show off their more playful side and run user-generated content to align them closer with their target audience. Generating meaningful and inspiring hashtags that are strongly connected to the campaign, will create a more personable, shareable message and increases the reach of the campaign.
The Body Shop launched a fun and engaging #SendingAKiss contest, encouraging their Instagram followers to send in photos of themselves blowing a kiss to a friend, celebrating "Galentine's Day" instead. The winner received a gift packs of fruit-scented lip balms for them and their pals. They were able to reach new customers by asking followers to send the kiss to friends and tag them in.
ASOS was also feeling the Galentine's day vibe, along with Accessorize… (please see gallery above).
NIVEA:
First Kiss campaign was simple yet touching but formed a great piece of content marketing activity. Nivea encouraged their Facebook users to share their "First Kiss" stories.
DROGA5:
A quirky take on the standard Valentine's Day cards Droga5 London developed the "ugly and forgotten" cards, featuring endangered animals with all profits going to charities supporting the endangered animals that feature on these cool cards, whilst carrying a heart-warming and sentimental message.
Doritos:
"Ketchup Roses" campaign encouraged people to boldly share their love with a bouquet of roses made out of artificially flavoured crisps and bouquets made from cheesy roses.

Snickers:
"You're forgetful when you're hungry" a twist on their campaign "you're not yourself when you're hungry". They created a billboard campaign around London to help those forgetful passengers by offering last minute Valentine's Day cards on 15 billboards that featured 300 replaceable cards that could be peeled off. https://www.youtube.com/watch?v=wqCP0HoUzz0
Wilkinson Sword
Their smooth campaign invited couples to come down to their 'Beards for Bouquets' pop-up barber shop on Valentine's Day set up at King's Cross Station, where bristles of stubble were exchanged for a cute bouquet of flowers including an endearing message #WSSmoothValentine .

Mr Kipling:
Treated us by instilling some romance and personality into their limited-edition packaging to create a  fun and distinctive campaign. Playful wording included; Fancy a kiss with a French Fancy or Love you Cherry much for Cherry Bakewells.
Burger King:
Burger King Israel's special edition "The Adults Meal". A naughty twist on the standard "kids meal", Burger king decided to treat the adults instead with their special meal including; 2 whoppers, 2 packs of French fries, 2 beers and a romantic ADULT TOY inside.
IKEA:
This Valentine's Day print ad incorporates tongue-in-cheek messaging that is high on the comedy value.
Hovis Bread:
Heart shaped food images are an easy avenue for food brands to take, but the beauty of this ad is its simplicity.
Subway:
Now for some examples that are true heartbreakers. A Subway sandwich store sign offers the advice: "Satisfy your Valentine with a footlong", who said romance was dead?
Tescos:
This tongue-in-cheek signage failed to conjure up chemistry with some of us…what do you think, are you offended or amused?
Domino's:
Targeting pizza obsessed couples Domino's devised a cheesy campaign, creating a very special 22-carat gold pizza slice engagement ring, that could be won via a Facebook competition.
Sainsbury's:
Champions its LGBT customers. Sainsbury's brought their brand to life on Valentine's Day featuring same-sex advertising in their newspaper adverts, with couples dancing and  cooked heart-shaped pizzas, in addition to selling cards targeting their LGBT customers.
Virgin Trains:
Invited customers to hop aboard the love train in their high-speed dating campaign. They offered a select few 'singles tickets' for a romantic train journey from London King's Cross to York on Valentine's Day. Maitre D' for the evening was Fred Sirieix, from channel 4's First dates programme.

Heineken:
The brand helped you serenade your crush via a Facebook app. You entered the name of your crush, why you fancy them and detail your dream date. This was a great engagement opportunity to build their Facebook following as well. The app then created a unique musical serenade and posted it on the recipient's Facebook wall.

In conclusion, Romantic Advertising on Valentine's Day is all about building a buzz and knowing your audience to elicit engagement and a strong emotional response, from romantic to quirky, sexy to sweets, there are many avenues you can take. Also, employing a user-generated content strategy has become an increasingly popular strategy.
So, from everyone at OWB Happy Valentine's and Galantine's Day (OR Palentine's Day as our lovely designer Bryony and her friends have labelled it).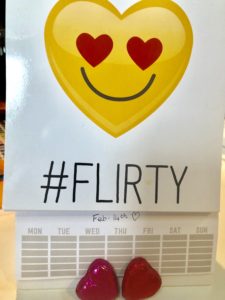 *SOURCE: https://www.globaldata.com/uk-consumers-spend-almost-1-billion-valentines-gifts-2017/