Hooray! We are shortlisted for a Digital Entrepreneur Award in the category Social Media Campaign of the Year. The Digital Entrepreneur Awards are the UK's only national awards dedicated to Internet entrepreneurialism and have been recognising Britain's finest talent for 10 consecutive years. So yes you could say we are extremely proud to be a DEA 2015 finalist!
Bit of background info on our client, Twycross Zoo:
Located in Atherstone, Leicestershire, Twycross Zoo is internationally renowned as a World Primate Centre accommodating the UK's only group of all 4 great apes. Twycross Zoo pride themselves on allowing visitors to get up close with their animals with exhibits such as the lemur walk through enclosure, the emperor tamarins treetop and the newly opened giraffe savannah.
With the brand new Giraffe Savannah Attraction opening this year, our brief was to increase the zoo's exposure and promote the new enclosure. We embraced Zoocial Media, 'Guerrilla' marketing and commercialisation all across the Midlands.
The Campaign:
Starting in the first week of the Easter holidays, we commissioned musical theatre student volunteers to dress up in a gorilla costumes and giraffe onesies. Dressed in their costumes and armed with 'follow us to Twycross Zoo' placards, the students travelled by bus along circuits of Birmingham city centre. While on the bus they secretly filmed the reactions of members of the public as they boarded the bus to find a gorilla and a giraffe riding the bus to Twycross Zoo. After signing release forms we used the reactions as great content to post across the Zoo's social media channels, including Facebook and Twitter.
In the second week we booked commercial space in Touchwood shopping centre, Solihull and the Solihull high street. Throughout those two days we engaged with Heart FM, giving us the opportunity to take photos with families in front of a branded Twycross Zoo pop up stand providing data capture and social content that encouraged the families to find their photos and 'tag' each other.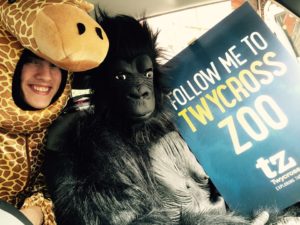 We think our client's testimonial says it all:
"The opening of the new giraffe enclosure in Easter 2015 marked a major milestone in the development of Twycross Zoo's master plan, we were thrilled with the social media campaign around Birmingham, Solihull and Coventry shopping areas. The noise and brand awareness created were beyond our expectations and helped drive a record number of Facebook and Twitter engagements and ultimately the busiest bank holiday ever." Sharon Leeson – Director of marketing

Here at OWB we are absolutely thrilled and can't wait to find out if we have won this impressive award!