Walsall-based Brady Bags, iconic manufacturer of hand-made field sports luggage, have appointed OWB to handle their online marketing strategy, which encompasses e-marketing, paid-search and social media management.
As part of the campaign, Andy and Graham, have both agreed to 'test drive' a Brady bag — described as "the original bag for life" by Brady Bags Managing Director, Dave Darley.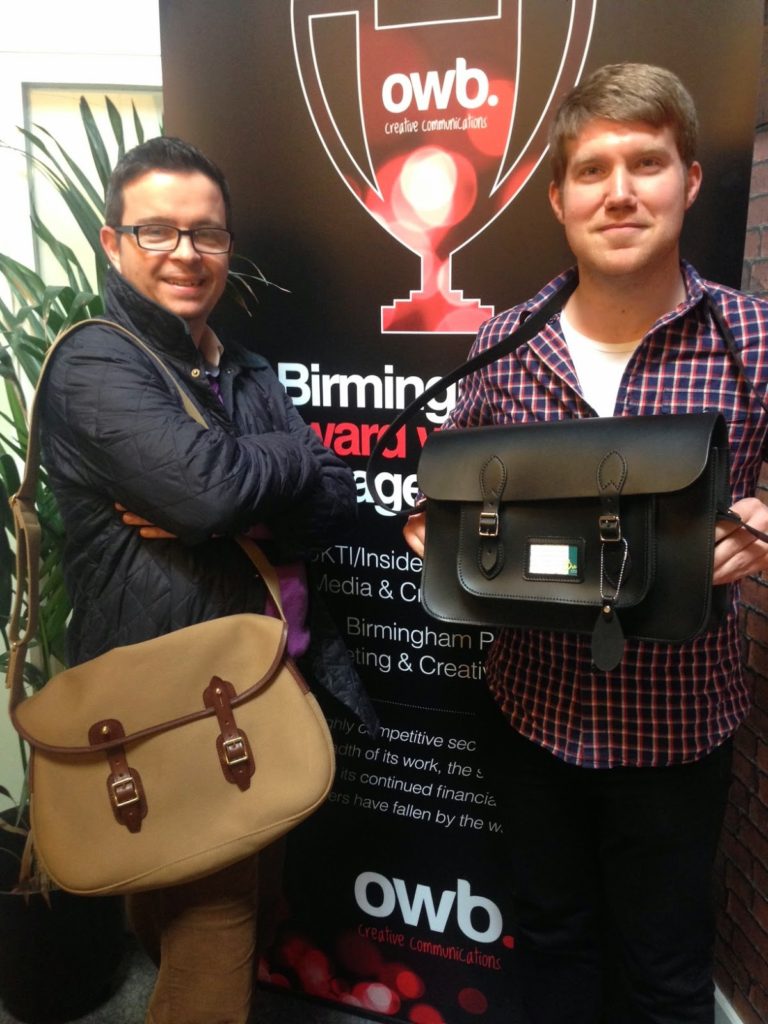 Andy and G model their new bags.
Andy has selected the new Grasmoor bag, designed with a crisp, clean look; it is both fashionable and practical, made from beautiful yet durable triple layered waterproof canvas and brass fittings.
"This will look great on the back-seat of my Mini Convertible!" said Andy, when he was presented with the bag.
"I have meetings both tomorrow and Friday, and I can just imagine their reactions when I turn up with my new Grasmoor bag. There is something so eye-catching about it that everyone is going to want to know where they can get one."
G opted for the traditional Brady satchel, which is based on Brady's original satchel design from the 1960s. Made from high quality English Leather and using stainless steel fittings, the satchel is stylish and practical.
"I can just imagine my Dad, as a lad, walking to school with one of these!" said Graham.
"I'm used to buying £20-30 man bags that will last six months before I chuck them away and buy another. It's nice to hold something that feels like it's not going to fall apart the minute I put a bottle of water inside it!"
"There is a distinct quality to this bag; the look, the smell, the feel. Plus, the fact it's hand-made in the West Midlands is an added bonus."
Over the next few weeks, the guys are on a mission to demonstrate the quality and versatility of these bags in a series of different scenarios.
Will Andy's bag turn heads at Walsall Rugby Club? Will G be seen sporting his satchel at either the Paris or London marathons? Stay tuned to find out.