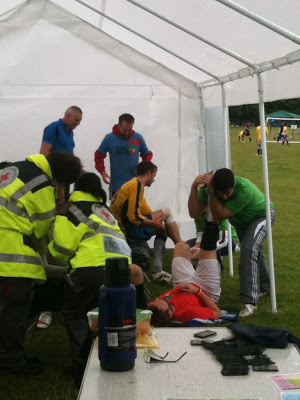 The Warrington Whippet, Normski, did some great work for charity mate playing in the blistering heat of south London to raise £121,349 – a new Football Marathon record for http://tackleafrica.org/football-marathon/final-standings/
63 courageous teams battled hard to play 788 games over 12 hours.
"it was hell out there" commented Norm "it was a game of two halves, we kept our heads down and worked the ball through the middle, the side and over the top. The Guv was hard on us and would only let us have 10 pints of bitter the whole day"
See pictured Norm provides a foot-based leaning device to the Green Team.
"Nice one Norm" G. Lineker, Arseanall
"well played meester" D. Maradonna-kebab, Hartlepool FC
"in the box" A. Cole, Spearmint