With 2018 being a difficult year for email marketing due to GDPR legislation coming into place and most databases slashed, more marketing managers are turning this cost effective channel back on in 2019 to maximise the new opted-in data they now hold. We take a look at email marketing trends that are expected to dominate 2019 and will help you to bring in new leads.
Content & personalisation matters and will help with conversions
With email preference centres, purchase history and data captured from surfing (ooh and you wonder why Amazon sends you an offer on that washing machine you were looking for the day before whilst being logged into your account) there is no excuse not to tailor your content to your specific target audience.  With more and more marketers using AI platforms, we are expecting that email marketing will get more and more personalised in 2019.
Interactive content
2019 will be the year of interactive content. This could be anything from a fun carousel, quizzes to online scratch cards (where you can bag a discount or win a prize) as it will keep your subscribers not only entertained but it will also drastically increase open rates.  A great example is this interactive campaign by Pret a Manger – click the link here for the interactive version.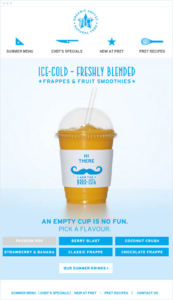 Is it time for a loyalty plan?
If you haven't already introduced a loyalty scheme, you may want to incorporate this into your marketing strategy for 2019 as it is a great way to communicate with your loyal customers but also track what products they click on so you can personalise this even further.
Data
With some people dreading the word data, spending time to sort out what you have will help you reap the benefits this year as email providers such as Outlook, Gmail and Yahoo have become a lot stricter in 2018 by adding un-opened emails into clutter. This means segmenting your data (by existing / new / lapsed) and mapping out at what point customers are most likely to convert.
So if you're feeling like that 2018 was the year your database was decimated, make 2019 the year to be dynamic again and deliver results.
If you need help to get things going, speak to us today and we will help you re-engage with email marketing and make your data your friend again.