OWB have recently jumped on the Facebook Live bandwagon and explored the opportunities it brings for showcasing your business and breaking through the noise. Facebook Live creates a fun format to promote services and review products. It has opened a spectrum of opportunities for businesses to enable their audiences to vicariously participate in the lives of their favourite brands or influencers, connect and engage with them in real time!
Shari tested the #BMW GS1200 for Rybrook Bikes Wolverhampton recently, and showcased the product in a Facebook Live session. The video received over 1300 views and produced some great engagement, proving this is a channel well worth exploring. Want to give it a go? Below we set out our steps to get you live.
Step 1: Before going live, plan what you are going to broadcast, yet avoid coming across as scripted so that you appear genuine and engaging. Run through your script a few times until you feel comfortable. Do you need any props? What's the background – is this important to you? If you're in your business filming, make sure there's nothing confidential on view!
Step 2: To start broadcasting on Facebook on your phone or computer ensure that you have a strong internet connection (Wi-Fi or 4G). If you're streaming on behalf of your business, go to your business's page. Click "Publish" as if you were creating a post, then click on "Live Video." Describe your live video in one short headline, like "Behind The Scenes at My Company." Then click the blue, "Go Live" button.
Step 3: Tell followers when you're broadcasting ahead of time, build anticipation and post tasters a day ahead of broadcast time, explaining what you'll be broadcasting and give people enough time to tune in. Although you want to appear authentic, ensure that you have quality lighting and sound and setting.
Step 4: Create a catchy caption that will grab people's attention and communicates what the broadcast is about. 10 minutes is the minimum we recommend you broadcast for.
Step 5: People love a 'going behind the scenes' type reveal; give your audience something they won't be able to see elsewhere, which is more likely to intrigue them and entice them to watch future Live videos from you.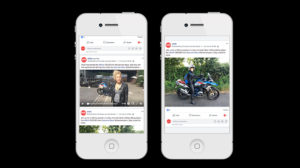 Step 6: Remind your audience that they can tap on the 'follow' button on live videos, to ensure that they receive notifications for the next time you go live.
Step 7: Say hello to commenters by name and respond to their comments live, your audience will be over the moon to receive a live name drop.
Step 8: Keep your device steady, although it can be easy to move around, you ideally want to refrain from a mobile rollercoaster, keep movements slow and steady so that the video appears more professional.
Step 9: Try different types of broadcasting and get creative, going live frequently increases the chance of engaging an audience. Be it; commenting on breaking news, Q&A sessions, live with sessions (bring a friend), Hot Topic Views, or behind the scenes footage.
Step 10: Be personable; when you're ready to broadcast, relax and wear a broad smile! You will be more likely to appear inviting and immerse an audience into your Facebook Live session.
Once you're done, make sure to respond to any comments – this will extend the life of your video long after you've gone live. Save it to your timeline to re-share at later date and share across other channels too.
That's it so get recording and have fun!