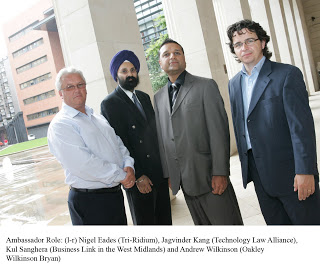 Five of the West Midlands' top
entrepreneurs have been named as business 'ambassadors' for the region.
The ambassadors programme, launched
by Business Link in the West Midlands, hopes they will showcase the value
of advice and specialist support, and encourage greater collaboration between
public and private sector organisation.
The five ambassadors are:
■ Nigel Eades, managing director of Tri-Ridium Limited, which focuses on the prevention of credit card fraud for retailers
■ Jagvinder Kang, co-founder and director of national law firm, Technology Law Alliance, which specialises in IT, e-commerce and outsourcing contracts
■ Deb Leary, who started Tamworth-based Forensic Pathways on the back of a hotel receipt in Canada and has seen
worldwide success
■ Nick McKay, whose fledgling MHL Support went on to attain Fast Track 100
status five years after being launched, before being sold in December 2006 for an
undisclosed eight-figure sum
■ Andrew Wilkinson, managing director of Oakley Wilkinson Bryan, independent
Birmingham based marketing and digital communications agency, founded in 2001
The ambassadors will be working to ensure Business Link offers new enterprises the right help they need. They will be charged with promoting the service at key events, during best practice visits and in creating specialist forums to boost local performance.
Kul Sanghera, head of supplier development at Business Link in the West Midlands, said: "Our first five ambassadors represent a number of disciplines, including law, accountancy, human resources, payment processing, product storage and fulfilling, marketing and even forensic science.
"All started a business from scratch and can empathise with the challenges and opportunities faced by entrepreneurs. They have also been supported by Business Link so can talk about the benefits of external expertise."
Over a year, he is hoping to identify more successful entrepreneurs as
ambassadors.
He added: "Business and professional services are the fastest growing industry in the region, with more than £222 billion generated in annual GVA.
"It is also the second largest (behind wholesale and retail) in terms of employment with 362,700 people working in 50,267 companies."
"It's not just about Birmingham; there are lots of excellent firms in Coventry, Shropshire, the Black County and rural areas. It is important we build on this and make sure we work with the industry to provide the support businesses need and, importantly, make sure their expertise can benefit the entrepreneurs of tomorrow."